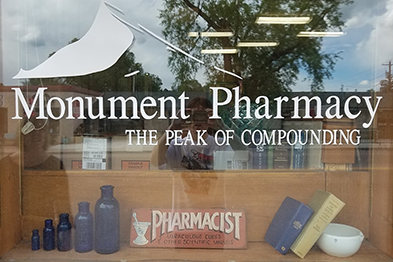 We love our customers and welcome your feedback and suggestions. Use our Contact Us page to tell us what we're doing right or what we can improve on.
We have a small-town feel with big-time results.
You will find Monument Pharmacy nestled high on the Palmer Divide, between Colorado Springs and Castle Rock in a historic building in downtown Monument, Colorado.
For nearly 30 years, Monument Pharmacy has been proudly and faithfully serving Colorado. Family owned and operated, we provide expert health consultations, high quality supplements, and customized compounded drugs to improve your and your pets' wellness and health span.
We prioritize quality and service. Therefore, facilitate an open, collaborative approach between practitioner, pharmacy, and patient. You won't find any automated call systems to navigate through. Call us today to discuss your needs with a live and friendly pharmacist.
This is why we do what we do
our customers tell their stories...